(Just a reminder: You can always click on the image for more information about the book, including a summary.)
For me:
Yaqui Delgado Wants to Kick Your Ass

Meg Medina

I've heard Meg speak twice, and she's as authentic as they come. So is her writing.
This is real, powerful, important, stuff.
 Rain Reign
Ann M. Martin
When I think of Ann M. Martin, I immediately think of The Babysitter's Club. I'm a child of the 80s. I can't help it. But she's written so much more, including this, her most recent. And I love her for creating a character who is so beautifully atypical.
What the Moon Said
Gayle Rosengren
My newest pick, just started last night.
For the kiddos:
Benny and Penny in Lights Out!

Geoffrey Hayes

We are currently a little obsessed with Toon Books, an imprint of Candlewick, who produces graphic novels specifically for younger readers. My 5yo is reading (devouring!) the level 2 books independently. We picked up a couple of the Benny and Penny books at our library last week. Though the genders are reversed from what is in our household, I think she she's herself and her brother in the sibling relationship.
Ling & Ting: Twice as Silly

Grace Lin

I've read Lin's Where the Mountain Meets the Moon and Starry River of the Sky, but didn't realize she'd also penned this early reader series. We'll be back for more!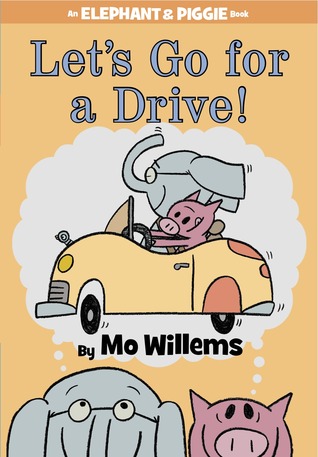 Let's Go for A Drive

Mo Willems
Because we're always, always, always reading an Elephant & Piggie book 🙂
Romping Monsters, Stomping Monsters
Jane Yolen, illustrated by Kelly Murphy

Simple, descriptive, rhyming text. My 5yo has been reading this to my 3yo.
Sebastian and the Balloon

Philip C. Stead

You can always count on Stead to write those quieter books that have a timeless feel, both in text and illustration. They make perfect bedtime/quiet time stories.
Happy Monday, Friends!
What are YOU reading this week?